Dino Stampede is a 25 payline Video Slot with special collectible T-Rex eggs that complete combinations, a free spins mode and a one-on-one dinosaur battle bonus game.
Combo Completer
The player must collect the T-Rex eggs from the reels whenever the special T-Rex + special eggs symbol appears. The eggs appear on any reels and are collected on the slot's game panel. There is no limit on the number of collectable eggs. An egg automatically floats back to the reels to replace a symbol between 2 T-Rex symbols and to complete a single payline with the highest award. In case of a payline with 5 T-Rex icon completion, 2 eggs will be used, if available. Only 1 payline can be completed, even if more than 1 egg is collected. Eggs are saved between game sessions. Eggs do not float back to the reels during free spins.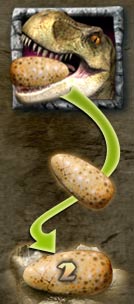 Free Spins Explosion
The player collects lava rocks from the reels whenever the special lava rock symbol appears on reel 3. 4 lava rock symbols are needed to trigger the Free Spins mode. Lava rocks are collected in the volcano on the slot's game panel. A free spin will play the same bet per line as the original game. It is not possible to win additional free spins during free spin rounds. Players can choose from the following free spin options:
15 free spins with x2 multiplier on all wins
10 free spins with x3 multiplier on all wins
5 free spins with x6 multipliers on all wins
30 free spins with no multiplier

Wild Symbol
The Wild symbol substitutes for any symbol except for lava rock, bonus and T-Rex.
The Wild symbol by itself does not pay anything.
The Wild Symbol can appear on reels 2, 3 and 4.
Bonus game
3 bonus symbols on reels 1, 3 and 5 trigger the Raptor Clash bonus game.
The player controls a giant reptile in a one-on-one battle and has up to 5 rounds to beat the vicious opponent and win bonus cash. The battle can be played out automatically by clicking on 'Auto-Battle'. All bonus game wins are multiplied by the total bet and added to the bankroll.
Shortcuts keys
"a" key on your keyboard initiate Auto Play.
"down arrow" decrease the bet per line.
"up arrow" increase the bet per line.
"enter" spins for you.
Additional instructions
It is not possible to win additional free spins during Free Spin rounds.
All symbols pay left to right on consecutive reels of an active payline (starting with the leftmost reel).
All wins are multiplied by the bet per line.
Bonus wins are paid in addition to payline wins.
Only the highest win will be paid on each of the active paylines.
To view the different winning combinations and special features click Paytable on the machine's buttons panel.
You may verify your total win amount in the 'Paid' display window.
Wins on different pay lines are added together.
You can use the Autoplay option to have the computer spin for you. Select the number of spins (by clicking the -/+ buttons or - depending on the game - choose a predefined number) and click on Autoplay. You can stop Autoplay at any time. Autoplay pauses for bonus rounds and free spins.
Note that if stopping auto-play early, the auto-play spin value remains at the number of remaining spins when it was stopped, rather than resetting to its original value. ie: After set to 50 spins, stop after 6 spins, the counter stays at 44 rather than resetting to 50.
Malfunction voids all pays and plays.
Minimum bet = 0.01 X 25 paylines
Maximum bet – 10 X 25 paylines